I've been baking a lot of bread over the past year: about one loaf a week, give or take. It's a fun hobby, and it saves me a bit of money because homemade bread lasts longer than the stuff at the grocery store and also costs less. There are some occupational hazards, like burning my arm, but the payoff seems to be mostly worth it, because homemade bread tastes so good. The thing that got me hooked was this basic recipe from Donna Currie—something about the overnight rest and use of good olive oil make this loaf really magical, and the active time is minimal which made it easy for me to get into baking regularly!
My beautiful golden son :') pic.twitter.com/dNnwd0j8ZH

— (:e hashman) (@ehashdn) January 5, 2019
A thing I really appreciate about baking bread is that it's very forgiving. I've only once ever made a loaf so bad that it turned out inedible, and that was one among dozens. My bread-shaping technique was non-existent when I started making bread, but now it's a lot better. I like making loaves on the smaller side, but my loaf pans are the wrong size, so sometimes I end up with a short, stout loaf—who cares. Every week I get the opportunity to try a new experiment and see what works and what doesn't, and my technique and knowledge get better every time. Your loaves will not judge you. You do not have to be perfect.
Compare this guy to the first loaf I baked when I got into bread earlier this year :D

As they say, practice makes perfect. pic.twitter.com/nbF8l1e5UH

— (:e hashman) (@ehashdn) January 5, 2019
Since I am Serious about breadmaking—or, at least, relatively committed to the cause—I decided to make my own sourdough starter in December of last year. His name is Yeästeroth, Keeper of the Seal, Sourer of the Dough: Yeästeroth the Undying, Who has Slept a Thousand Years... and Rises Again. (Name courtesy of my roommate. Other names submitted for consideration include "Allison the Mermaid" and "libsour.so.5".)
7 days of Yeästeroth! To celebrate, my roommate started playing a chant from Mozart's Requiem.

Still moving along slower than I would like so I have swaddled him in a blanket. pic.twitter.com/CceLXjz1Xy

— (:e hashman) (@ehashdn) December 7, 2018
According to various experiments, Yeästeroth sort of sucks at making dough rise and I am not nearly patient enough to try to fix this. So I just appreciate his nice flavour and spare him a little help in the rising department. When I bake sourdough bread, I throw in an extra teaspoon of instant yeast and call it a day.
So it turns out that little bit of commercial yeast I was adding *was* doing something 😂 I have learned my lesson this week...

Still tastes great, dense but good texture! pic.twitter.com/O52jf8R9I0

— (:e hashman) (@ehashdn) January 12, 2019
Whole wheat: the final frontier
While getting started with white bread and sourdough was relatively easy, baking with whole wheat flour is... a challenge, to say the least. It's much less forgiving than baking with white flour, the doughs need much more hydration so they're sticky and make a mess, and they rise at a different rate than white bread.
My favourite whole wheat breads tend to be multigrain, so that was the first kind of whole wheat loaf I tried to bake. I wasn't super happy with it, although I did bake the recipe again to try to improve on my technique, and that one turned out a bit better.
CRUMB pic.twitter.com/8LZNO7q2M5

— (:e hashman) (@ehashdn) July 30, 2018
To be honest I didn't think that getting better at baking whole wheat bread was actually worth the effort, so I stopped doing it for a while. Whole wheat bread is not morally superior to white bread, and it's way harder to work with and make taste good, so why bother with all the trouble?
Well, one of my coworkers went to the UK over the winter break and brought me back a bag of flour from his mother's local mill, and it turned out to be a whole wheat seed mix flour for multigrain bread, so I felt compelled to get better at this. Look at how charming it is! The label uses Comic Sans!!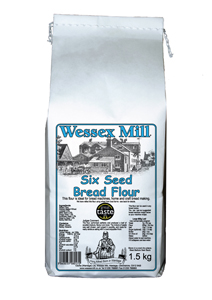 Since this flour has seeds already mixed in, a new and exciting thing for me, I looked for a bread recipe using it specifically (which was really just this recipe, modified) and made some modifications of my own (sourdough starter/instant yeast mix, no vitamin C tablet, half the salt, less sugar and used olive oil in place of butter). That turned out pretty well.
Baked my best multigrain loaf yet today! With the flour my coworker gave me 😊 pic.twitter.com/G4EYApU8zR

— (:e hashman) (@ehashdn) February 1, 2019
While I baked a pretty decent first loaf with the Wessex Mill flour, it still felt like it lacked something. I missed the butter and the brown sugar and so this time I figured I'd be a little more decadent and go all out. But I didn't really trust myself to do that with a 100% whole wheat loaf and succeed, so I decided to try an experiment by using a little more white flour. This new recipe is a hybridization of all the various multigrain loaf recipes I've tried thus far, and it worked out better than I could have hoped for!
My most successful multigrain loaf yet
Ingredients:
4oz white bread flour (I use King Arthur brand)
1 tsp instant yeast (I use Saf-instant red)
1 tsp salt
2 tbsp dark brown sugar
8oz sourdough starter at 100% hydration, unfed
6oz warm water
1-2 tbsp melted butter (it's fine if it's salted)
canola/vegetable oil for greasing
Note: This recipe involves a rest in the fridge. I recommend mixing the dough in the evening and baking it in the next morning.
Recipe:
Mix the dry ingredients in a stand mixer until thoroughly combined.
Measure in the wet ingredients and mix in the stand mixer until they come together. At this point the dough will be an extremely sticky mess, completely attached to the sides of the bowl.
Fear not. Add about a tablespoon of white bread flour and mix until it just starts to unstick from the sides of the mixer bowl.
Grease a plastic bag with a bit of canola oil. Make sure you grease it really well, because otherwise the dough will stick to the bag and you will be sad. Scrape the dough out of the mixing bowl into the bag and seal it. Stick this in the fridge overnight so it can develop some nice flavour.
In the morning, take the bag out of the fridge and let it come up to room temperature. This will take one to two hours, depending on how warm your kitchen is.
When the dough is warmed up, sprinkle some flour on the counter and shape the dough into a log.
Grease a loaf pan and transfer the dough into the pan. Cover the pan with plastic wrap and let this rest in a warm place until the loaf is fully risen. I usually let mine go about an hour and a half to two hours, depending on how long it rested coming up to room temperature.


When the dough is just about ready (it should double in size, give or take), preheat the oven to 350F convection (or 375F conventional bake). Put the loaf in the oven and bake for 20 minutes.


At this point, turn the loaf around and lower the oven temperature to 325F convection (or 350F conventional bake). Bake for an additional 15 minutes.
Remove the loaf from the oven, pop out of the pan and cool on a cooling rack. Enjoy once cool... assuming you can wait that long!